a new reality awaits. tcs can ensure you're prepared.
The notion that Canadian employers would engage in broad-scale temperature screening of employees would have once been essentially unthinkable.  But the realities of COVID-19 are changing the workplace, as least for the time-being.  With the encouragement of our health care professionals and some provincial and local governments, more employers are now considering the implementation of daily temperature screening before employees, associates and customers enter the workplace.
One of the primary symptoms consistent with COVID-19 is an elevated body temperature above 38˚C (100.4˚F).  Temperature testing is somewhat controversial as a method for detecting COVID-19, as it is possible for individuals to have elevated body temperatures even if they are not ill. However, thermal testing is non-invasive, produces objective and instant results, and tests for one of the primary symptoms of COVID-19. Accordingly, an employer's decision to implement temperature screening may be a reasonable method for mitigating risk of an outbreak within a workplace.
TCS offers two no-contact, temperature-check solutions to screen anyone entering your facilities, while allowing you to respect social distancing guidelines. Our temperature alarm cameras are:
Rapid: Detects elevated temperatures very quickly
Safe: Non-invasive and no direct contact with subject
Adaptable: Possibility of integration with some access control systems

Our no-contact temperature-check kiosks which automatically read body temperature in seconds, with optional facial recognition.  These kiosks are invaluable to carry out employee, associate and customer temperature checks, so help identify potential illness and avoid the spread of the virus
 


Access and export your logs to excel
These kiosks are designed to help prevent virus spread and maintain a healthy environment for your employees, associates, visitors and the general public. 
Facial recognition can be used to allow entry to pre-vetted individuals and/or store temperature readings for a user. Setting your own threshold for temperature readings, the device will give a successful message or warning with traffic light style LED lights. 
Designed as a high-tech access control measure, our kiosks are ideal for use on entry to healthcare settings, supermarkets and retail shops, factories, transport hubs, office buildings, schools and universities and more.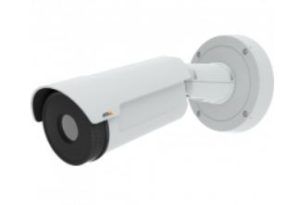 Our temperature alarm bullet cameras can detect the temperature of an object between  -40 °C to 550 °C.  As subjects walk through the screening area, their temperature is captured by the camera. If a temperature above the set limit is detected, the camera will trigger an alarm which can notify a device  – such as a smart phone or desktop business phone.

The camera a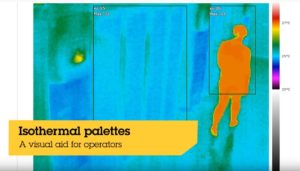 lso has the ability to send a digital image of any flagged subjects to your smart phone or desktop phone, making it easy to identify the subject and deal with the situation quickly.  There is no need for your organization to have dedicated staff or "screeners" screening people as they enter which will save your organization time and money.

The thermal detection cameras are easy to install and easily integrate into existing security systems. 

Contact us today to speak to one of our technology experts. Let's work together to ensure a safe return-to-work strategy for your organization.